应用案例
Application of Frequency Converter in Induced Draft Fan
日期:2019-07-01 浏览次数:3501
1.Customer Requirements:
An African customer, the rural power grid is underdeveloped, but the light is sufficient, the village has a total of 186 people, the per capita water is 0.1 m³ per day, and the water consumption is 18.6 m³ per day. In order to ensure drinking water in the village, it is necessary to drill wells and use a photovoltaic pump system to pump well water to the water tower. The local drilling depth is an average of 60 meters, the water tower is 2 meters above the ground, the pump head is 84 meters, and the water output is 4 m³ per hour. It runs 8 hours a day on a sunny day and can pump 32 m³ per day with a balance of 13.4 m³.
2.System diagram: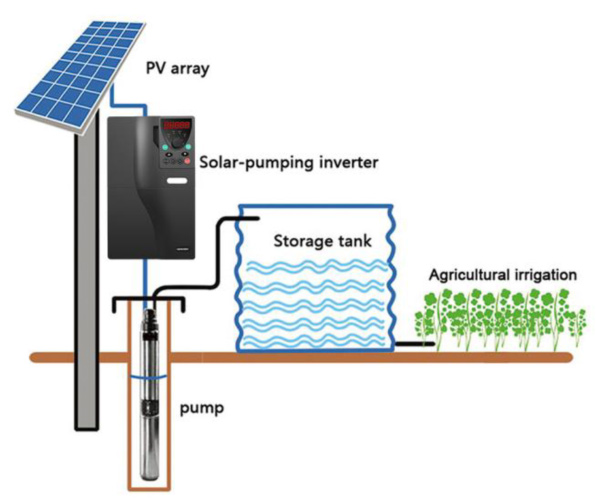 3.Program analysis:
The traditional scheme uses a pure sine wave inverter to drive the pump to run. The pump starting current may be up to 5 times. The 2.2 kW inverter is unbearable. It needs to be equipped with an inverter power of 11 kW and a photovoltaic module with a power of 11 kW. The cost is high.
Since our inverter is used for variable frequency start-up of the pump start, the starting current does not exceed 120%, and starts running in 1 second to full load 50Hz. The 2.2 kW inverter is fully capable of withstanding current surges and has a longer system life. It is therefore equipped with a 2.2 kW inverter and a 4 kW photovoltaic panel assembly. Save 60% of photovoltaic panel components. The price is cheaper and the effect is better.
4.Reference form:
Traditional scheme

Our scheme

Product Name

Description

Unit

Quantity

Product Name

Description

Unit

Quantity

Photovoltaic Module

36V 320W

PCS

35

Photovoltaic Module

36V 320W

PCS

16

PV module bracket

Ordinary bracket

PCS

35

PV module bracket

Ordinary bracket

PCS

16

Photovoltaic controller

96V 11kW

PCS

1

Photovoltaic controller

No need

PCS

0

Battery

12V 200mah

PCS

1

Battery

No need

PCS

0

Inverter

96V 11kW

PCS

1

Inverter

380V 2.2kW

PCS

1

Pump

380V 2.2 kW Head 84 m Flow 4 m3/h

PCS

1

Pump

380V 2.2 kW Head 84 m Flow 4 m3/h

PCS

1

Cable

4 square BVR flame retardant cable

M

200

Cable

4 square BVR flame retardant cable

M

200

Water pipes and fittings

Water pipes and connecting parts

M

80

Water pipes and fittings

Water pipes and connecting parts

M

80
5.Usage:
After installing the PV pump system, it fully meets the basic water consumption in the village during the dry season. At 6 o'clock in the morning on sunny days, you can start running after half an hour, and run at 8 o'clock to full load 50Hz. It stopped running after 5 o'clock in the evening, running for 8 hours at full load every day, and running at low frequency for 1.5 hours. The pumping volume is higher than the expected standard.
6.Part of the scene picture: